In the face of a difficult economic environment over the last year, industrial rents have defied the trend and experienced substantial increases in recent quarters.
It was the third consecutive quarter that the JTC All Industrial Rental Index increased. Ground-floor manufacturing and warehouse rentals, which are monitored by CBRE Research, saw a rise in the second quarter of 2021 as well.
According to forecasts, the upward trend in occupancy and rents will continue to be supported by robust demand as a result of increased industrial production.
In particular, a rise in activity in several areas is expected to fuel demand for industrial space: semiconductor production, the pharmaceutical and biomedical sector, and the growing trend of e-commerce and online grocery shopping, among other things.
Strong Demand from Various Industries
Semiconductor Sector
As a result of increased needs for semiconductors from cloud computing and the 5G industry, as well as supply-chain disruptions, the current worldwide chip shortage has been worsened.
It is possible that the shortfall would help participants in the electronics industries, since Singapore accounts for 5% of worldwide wafer manufacturing capacity and 19% of global semiconductor equipment market share, respectively.
Due to increased capital investment by semiconductor manufacturers to expand capacity for greater production volumes, it is possible that the amount of space required in factories and warehouses may grow. GlobalFoundries, a US semiconductor manufacturer, said in June that it will spend S$5 billion in Singapore to expand its wafer manufacturing facility.
Additionally, we are witnessing an increase in the number of renewals and expansions among smaller semiconductor firms. Many of them are concentrated in well-known electronics clusters in the north and north-east area, such as Yishun, Ang Mo Kio, and Woodlands, among others.
Other companies in the downstream parts of the value chain are also interested in high-tech space in these regions, since the closeness to the site of production and suppliers may assist to decrease total costs in these segments.
Ecommerce Sector
Consumer behavior has changed as a result of the pandemic, which has hastened the use of e-commerce.
As predicted by Euromonitor International, Singapore's online sales volume in 2021 is anticipated to rise by as much as 80 percent compared to pre-Covid-19 levels, with a compound annual growth rate (CAGR) of 13 percent projected from 2021 to 2025, according to the company. As a result, there will be an increase in the demand for warehouse space.
With commitment rates ranging 50 to 70%, the demand for new or forthcoming storage facilities has been particularly robust in recent quarters.
The majority of warehouses are concentrated in the western portion of Singapore, which includes the districts of Tuas and Pioneer, among others. This area is poised to acquire even more importance in the next years, since it will be home to about 91 percent of future warehouse supply.
According to CBRE Research, the amount of cold-storage space leased in selected key Asian markets in the first half of 2021 was three times more than in the first half of 2019.
Grocery retailers supported by e-commerce platforms, conventional grocers embracing omnichannel distribution, and specialty cold-storage service providers were the driving forces behind leasing activity. With today's customers expecting better quality and more variety in their groceries, as well as the fast growth of the pharmaceutical sector, the need for cold-chain logistics is anticipated to increase.
The present shortage of specialized cold storage space in comparison to the prospective demand is prompting more developers to explore increasing requirements in order to capitalize on this need.
If developers want to guarantee more flexibility, they may designate enough electricity to enable occupants who need temperature-controlled areas to adapt the building to meet their specific requirements.
Biomedical and Pharmaceuticals Sector
Exports from beneficiary industries such as pharmaceuticals and biomedical products have been particularly robust over the last several quarters, especially in the pharmaceutical and biomedical categories.
According to the Singapore Economic Development Board, eight of the world's top ten pharmaceutical firms have facilities in the city-state, and the city-state is home to the production of four of the world's top ten medicines in terms of worldwide sales. Businesses have benefited from the build-to-suit approach for their real estate requirements since it allows them to create facilities that are tailored to their need with less upfront expenditure. For example, the French pharmaceutical company Sanofi is planning to construct a vaccine production facility in the Tuas Biomedical Park, which also offers manufacturing and laboratory space for other companies.
While this is the case, multi-user projects such as JTC Space @ Tuas Biomedical Park can accommodate global companies as well as small and medium-sized businesses with lower space needs. It is expected that the clustering effect would strengthen the biomedical manufacturing ecosystem of research and development centers and technology partners, resulting in the construction of future-oriented manufacturing facilities.
Space 21 – A Freehold City Fringe Industrial at Geylang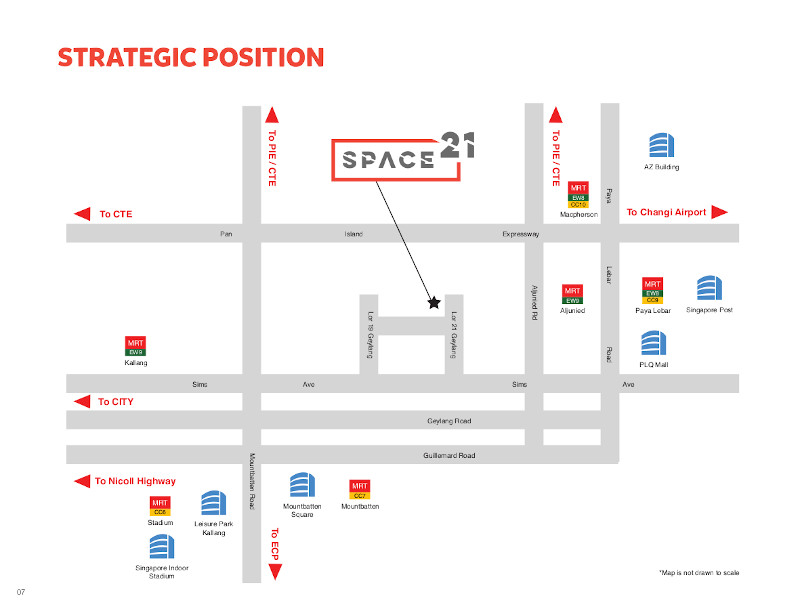 SPACE 21 is a new B1 Industrial development for light industries, which is a rare development with a contemporary architectural design. It is a rare freehold development with a modern architectural design. The property has a total size of about 15,364 sqft (1,427 sqm), with 19 units and 1 canteen spread throughout it.
Space 21 location is situated in the Geylang region of District 14, on the eastern edge of Singapore's Central Region, near the intersection of Geylang Road and Sims Road. Walking distance to and from the Aljunied MRT Station is about 400 metres, or 5 minutes casual walking distance, and it is located near bus stations and a bus terminal. The area has excellent connection across the island, thanks to the CTE, KPE, PIE, and ECP, among other routes. As a result, there is a lot of foot activity in the area. A fantastic long-term property asset that is ideal for both investment and personal usage.
Like more info on this development, visit Space 21 Official site for more information.